To assist with public safety, please remain diligent in adhering to safe practices outlined by the CDC like wearing a face covering and social distancing when out in the community and stay home if you feel ill. We recommend confirming details and verifying requirements and/or safety procedures for guests before visiting a local shop, attraction, eatery or other business. 
 
Here are ideas for ways to recognize the history and heritage of African Americans in Wichita and Kansas during Black History Month this February.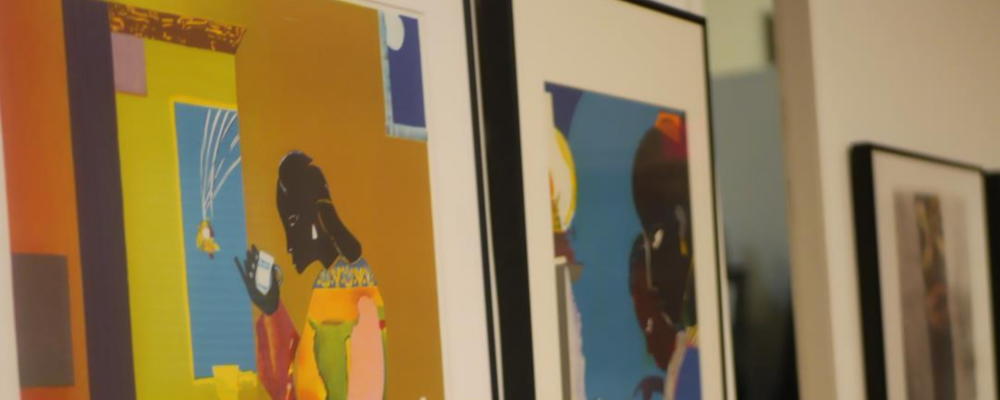 Visit the Kansas African American Museum
The Kansas African American Museum is housed in the former Calvary Baptist Church, once the cornerstone of Wichita's vibrant Black community. The museum is one stop on The Kansas African American History Trail and is considered the preeminent home of Kansas African American history and artifacts. Explore the museum in person or through their online engagement center.

In addition to permanent exhibitions, "Through Our Eyes: Perspectives of African American Life in the 20th Century" opened in January and runs through March 27. This display pulls from TKAAM's permanent collection to explore how Black artists experienced shifts in culture, social interaction and everyday life throughout the 20th century. Included works are by artists such as Romare Bearden, Jacob Lawrence and Lois Mailou Jones, as well as Kansas-based artists. "Through Our Eyes" is in collaboration with the Wichita Art Museum and The Ulrich Museum at Wichita State University, which both have exhibitions centered on African American artists.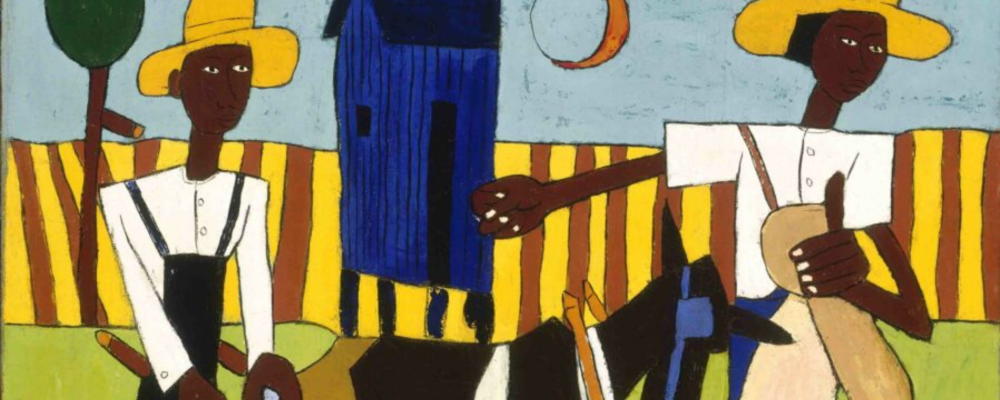 William H. Johnson, "Sowing," about 1940. Smithsonian Museum of American Art Museum, Washington, D. C., Gift of the Harmon Foundation
See one of the top collections of African American art via a traveling Smithsonian exhibition
The Smithsonian American Art Museum holds one of the prominent collections of African American art, and the best of the best of this collection is in Wichita Feb. 6 through May 23. The Wichita Art Museum is hosting a traveling Smithsonian exhibition titled "African American Art in the 20th Century: Harlem Renaissance, Civil Rights Era and Beyond," and The Kansas African American Museum and the Ulrich Museum of Art have organized complementary exhibitions and programming. The exhibition at WAM includes nearly 50 paintings and sculptures by 34 leading artists created in moments of significant social and political change.
Among other exhibitions this spring, WAM also will show "I, Too, Sing America - African American Art from the WAM Collection," from March 13 through Aug. 1.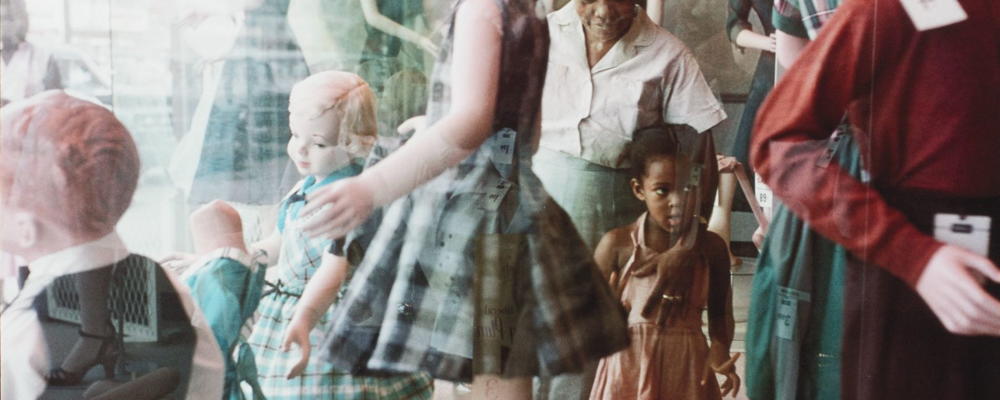 Gordon Parks, Ondria Tanner & her Grandmother Window-shopping, Mobile, Alabama, 1956.
Museum Purchase © & courtesy of The Gordon Parks Foundation, Collection of the Ulrich Museum of Art.
Explore two renowned artists in the Ulrich Museum of Art collection
You'll find stellar online programming and two in-person exhibitions at the Ulrich Museum of Art on the campus of Wichita State University as part of the citywide partnership exploring African American Art in the 20th Century.
"Gordon Parks: I, too, am America" features 40 photographs from the Ulrich Museum's holdings of more than 170 photographs by Gordon Parks (1912-2006). These selections focus on the powerful images of children and families that Parks created throughout his career and particularly during his time at LIFE magazine, where he crafted some of the most impactful journalistic coverage of issues and personalities connected to the Civil Rights movement.
"Renée Stout: Ghosts" highlights the artist's 2012 portfolio Ghosts, which is part of the Ulrich Museum collection. Stout is a contemporary American artist whose work is renowned for its potent reflections on African American heritage and the visual culture of the African diaspora. This exhibition also incorporates six objects from the collection of WSU's Lowell D. Holmes Museum of Anthropology.
"Explore Black Art" with Mark Arts online
Mark Arts has an inspiring afternoon planned Feb. 20 with "Art Together: Explore Black Art." All events are free, but advance registration is required for the Zoom options. Enjoy a virtual walkthrough of featured works by Black artists curated by Art That Touches the Heart. The works will be on display and for sale in a pop-up shop the entire month of February. Tune in for a live poetry reading by Rob Simon and Matthew Thompson, or sign up for one of 40 spots (20 adults and 20 youth kits available starting Feb. 15 to those who register) available for free instruction on creating a self-portrait inspired by Kehinde Wiley, President Barack Obama's official portrait artist. The importance of representation and self-expression in art will be discussed.
Hear from African Americans expressing their art during Friends University's online Black Artist Series
Friends University's Dance department is offering free workshops, lectures and masterclasses Feb. 2-24 through its Black Artist Series, with the goal of sharing with the Wichita community how African Americans express their art and encouraging participants to appreciate the cultural differences and revel in the similarities. Each session is led by talented Black guest artists from across the U.S. All events will take place virtually and are free and open to all ages and skill levels.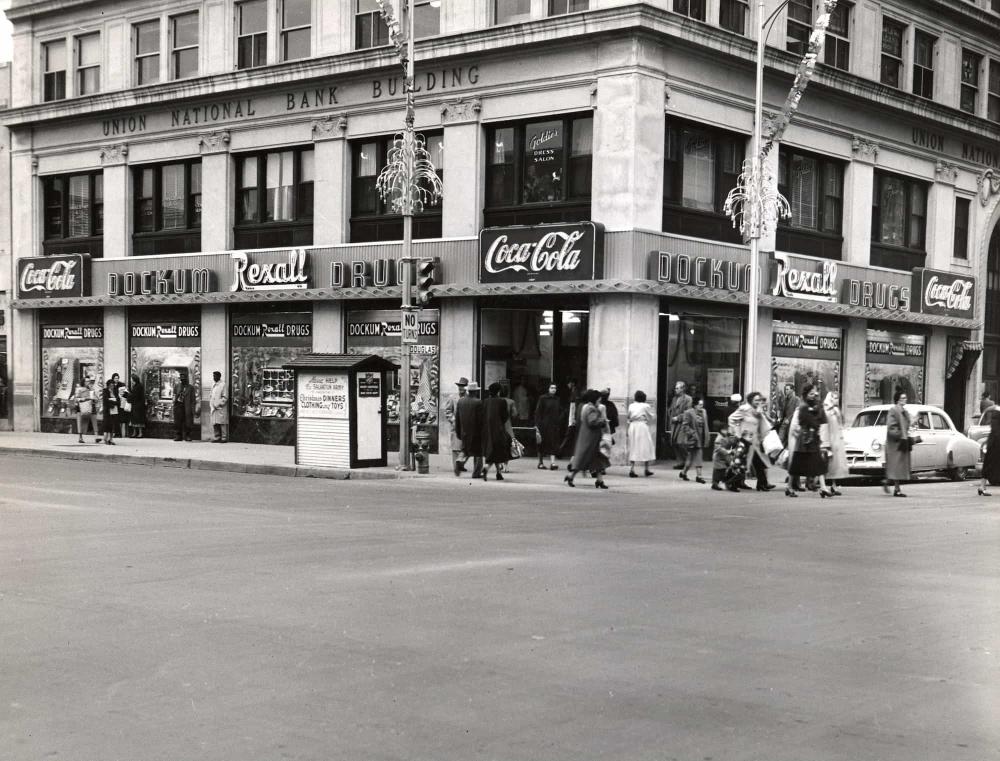 Dockum Drug Store circa 1955.Credit: Edgar B. Smith, wichitaphotos.org
Learn Wichita's role in desegregation
The 1958 Dockum Drug Store Sit-in happened in downtown Wichita and was one of the first organized sit-ins in the country. Learn more about Black students' efforts to end segregation in Wichita and the United States. You'll also find bronze sculptures and art elements reflecting this history at downtown's Chester I. Lewis Reflection Square Park, though elements of the pocket park may be unavailable as a renovation of the space continues in 2021.
Support African American art and artists by visiting CityArts new traveling exhibit
Now through March 5, CityArts is featuring a special traveling exhibit to celebrate Art That Touches Your Heart's 10th anniversary. Art That Touches Your Heart works with artists in Wichita and beyond to bring Black art to the Midwest. The exhibit provides education about Black History Month and is designed to celebrate Black artists from Dallas, Texas and Kansas City to energize the landscape of the art community. Their art ranges from original paintings, drawings, Giclee and mixed media. For the past nine years, this charitable art show has been held at Wichita State University and is debuting at CityArts for the first time in conjunction with Black History Month. Admission is free; call 316-350-3245 to arrange a visit as gallery occupancy is being limited at this time.
Donate or volunteer to help the restoration of The Dunbar Theatre
When The Dunbar Theatre opened in 1941 it signaled a welcome place for African Americans to go in a segregated city. A group of volunteers is working to restore the vacant building (a new marquee is already up) and return the structure to use as a community-based cultural performing arts center. They see the building as an anchor to a new Dunbar District. Learn more about the project and how you can get involved at historicdunbartheatre.com.
Visit the Kansas Sports Hall of Fame
Learn about exceptional coaches and athletes from Kansas, including inductees Willie Jeffries, the first African American head football coach at the NCAA Division 1 level; NFL great Barry Sanders; and basketball star Lynette Woodard, who became the first female Harlem Globetrotter. The museum is closed to the public during the pandemic but you can request an appointment to view the exhibits by calling the Kansas Sports Hall of Fame.