To assist with public safety, please remain diligent in adhering to safe practices outlined by the CDC like wearing a face covering and social distancing when out in the community and stay home if you feel ill. We recommend confirming details and verifying requirements and/or safety procedures for guests before visiting a local shop, attraction, eatery or other business. 
 
February is Black History Month, and there are numerous events and activities in Wichita to help celebrate the history and culture of Black Americans.
Visit the Kansas African American Museum
The Kansas African American Museum (TKAAM) is housed in the former Calvary Baptist Church, once the cornerstone of Wichita's vibrant Black community. The museum is one stop on The Kansas African American History Trail and is considered the preeminent home of Kansas African American history and artifacts.
In addition to permanent exhibitions, "Portrait of a Man" is on display through Black History Month and into spring 2022. This exhibit dives into the character of the men who carved out space for African Americans throughout the state of Kansas. By using conceptual art and words, the display highlights the men that have made an impact on our state and taps into the essence that made their accomplishments possible. Hop over to their Facebook page to watch "2022 Rev. Dr. Martin Luther King Jr – A Portrait Of A Man," which is an extension of the exhibition and their 2022 Martin Luther King, Jr.  virtual program.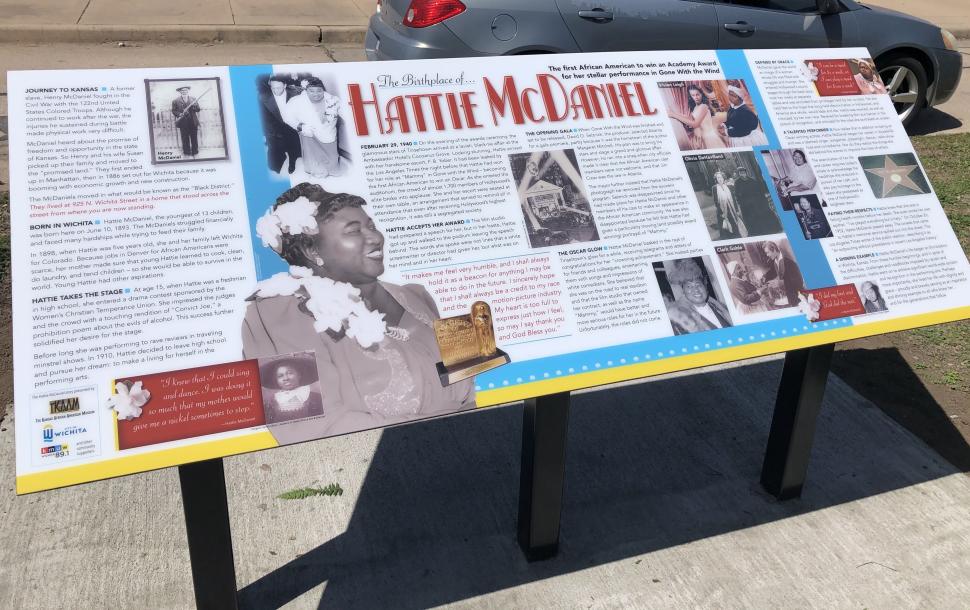 Visit the Hattie McDaniel Memorial
Hattie McDaniel, born in Wichita in 1895, made history as the first Black actor to win an Academy Award, for her role as Mammy in "Gone with the Wind." After learning about her life at The Kansas African American Museum, be sure to visit a colorful memorial showcasing her life and career. Visitors can find it at 925 N. Wichita St., near 9th and Waco, across the street where she once lived.
Learn Wichita's role in desegregation
The 1958 Dockum Drug Store Sit-in happened in downtown Wichita and was one of the first organized sit-ins in the country. Learn more about Black students' efforts to end segregation in Wichita and the United States. Co-host of NBC's TODAY and Wichita-native Sheinelle Jones talked with Dockum Drug Store sit-in participants in the 2021 series titled Changemakers. Read the full story and view the series here.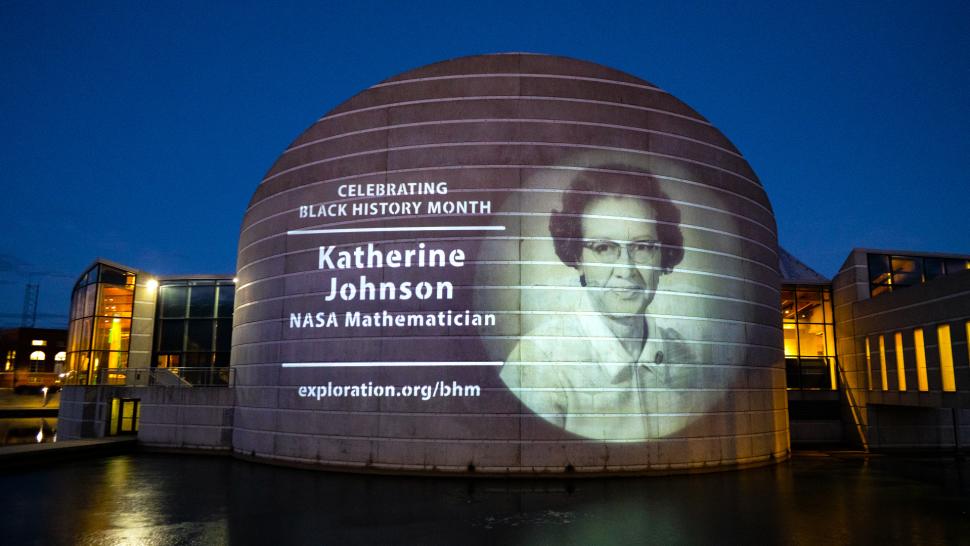 Go on a journey at Exploration Place
During Black History Month, Exploration Place will be featuring an outdoor exhibit, "Celebrating African American Earth and Space Scientists," which will highlight African Americans who made STEM history in aeronautics, aerospace and aviation.
The museum will project an image of a different African American earth and space scientist for each week of February onto the outside of their building. Since it will not be visible from the road, visitors will need to park near the Keeper of the Plains and the Arkansas River path to see it. Make it an evening and stay to watch the nightly Ring of Fire lighting at the Keeper of the Plains, which lights at 7 p.m. during winter months. Parking is free and ample in the Exploration Place parking lot. Additionally, while visitors trek between the Ring of Fire lighting and the Black History Month exhibit, they can also admire 12 banners we have up on the river highlighting women in science.
A virtual discussion between TKAAM director Denise Sherman and Exploration Place staff members Victoria Mitchell and Laura Roddy to preview the exhibit will air on Feb. 3 on TKAAM's Facebook page.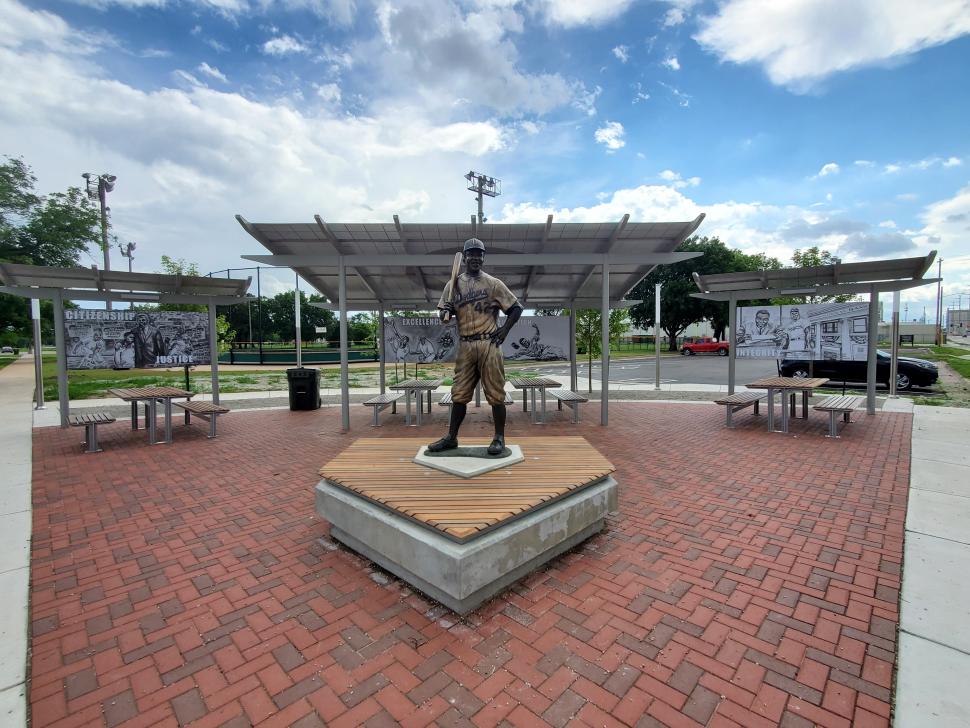 Make a stop at McAdams Park
Pack a lunch and enjoy a picnic at McAdams Park. Named after longtime City of Wichita recreation employee Emerson McAdams, the park is known for recognizing influential Black Wichitans. A statue of Jackie Robinson was unveiled at McAdams Park in 2021 and several facilities in the park are named after community standouts, including the Antione Carr basketball courts, the Barry Sanders football field and the Charles McAfee swimming pool.
Additionally, the McAdams Park community center is being renovated and renamed to the Carl G. Brewer Community Center after former Wichita Mayor Carl Brewer, who died in 2021. Brewer, who had a 14-year career with local government and served as mayor of Wichita from 2007 to 2015, was the city's first elected African American mayor. The new center will highlight McAdams and his contributions to the park, as well as other community leaders, and the park name will remain the same to honor McAdams.
Jenny Dawn Cellars
Jennifer McDonald, the founder of downtown winery Jenny Dawn Cellars, started as an at-home winemaker and is the first black winemaker and winery owner in Kansas. The winery has several events celebrating Black History Month. On Feb. 15, attend Wineucation - Black History Month Wines. Each month, they host wine education classes. February's Wineucation is focused on wines that were produced by Black Winemakers. Tracing Our Roots with Jennifer McDonald will take place on Feb. 16 and the virtual book discussion and wine tasting, Be The Dream, will be held on Feb. 28.
Collectively, Jenny Dawn Cellars makes 14 different wines, many of which have earned various awards; the Chardonnay won "Best in Class" the San Francisco Chronicle Wine Competition. They have Black History month multi-packs you can find here. Plus, the winery ships their homemade wines across the country, allowing you to savor the winery's delicious wines no matter where you live!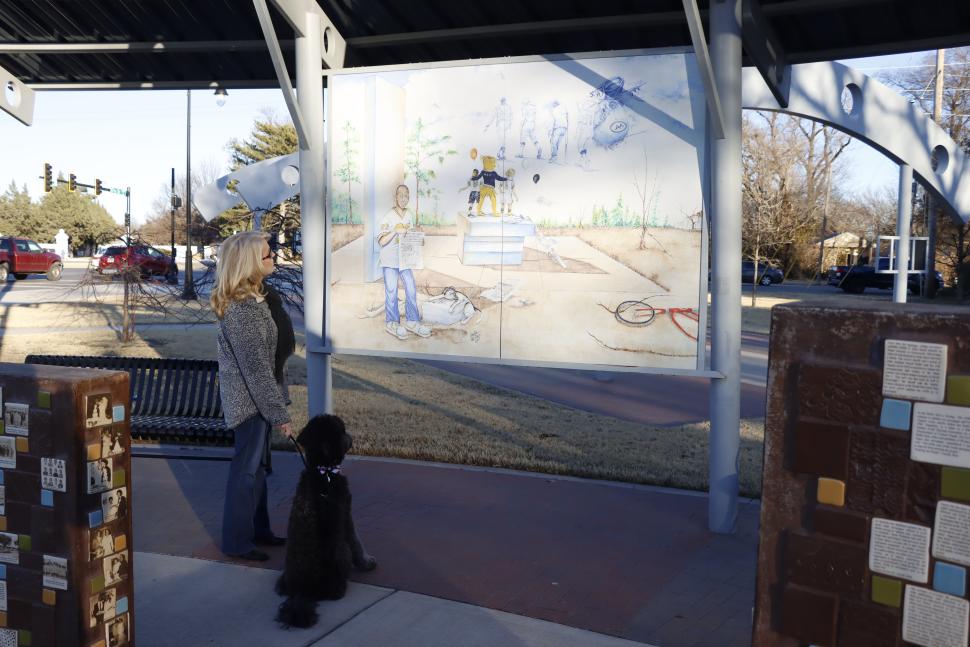 Explore the Redbud Trail
Wichita's Black history is showcased along the 11.5 miles of this biking and walking trail that falls within the city. Three rest areas tell the story of the people who live in nearby neighborhoods with art and history-filled installations at 9th & Hillside, 13th & Roosevelt and 17th & Oliver. The entire trail spans two counties and is more than 15 miles, providing the perfect opportunity for those who want to mix culture with an outdoor challenge.
Support African American art and artists by visiting CityArts traveling exhibit
Now through February 25, CityArts is featuring a special traveling exhibit to celebrate Art That Touches Your Heart's 11th anniversary. Art That Touches Your Heart works with artists in Wichita and beyond to bring Black art to the Midwest. The exhibit provides education about Black History Month and is designed to celebrate Black artists from Wichita, Houston, Memphis and more. For nine years, this charitable art show was held at Wichita State University and is being held at CityArts for the second time in conjunction with Black History Month. Admission is free.
"Explore Black Art" with Mark Arts
Mark Arts has an inspiring morning planned from 10 a.m. to noon on Feb. 12 with "Art Together: Explore Black Art." Presented in collaboration with TKAAM, enjoy story time, a curated display by Art That Touches the Heart and a lively performance by the Wichita Public Schools Buckner Elementary Drumline students. All events are free, but advance registration is required.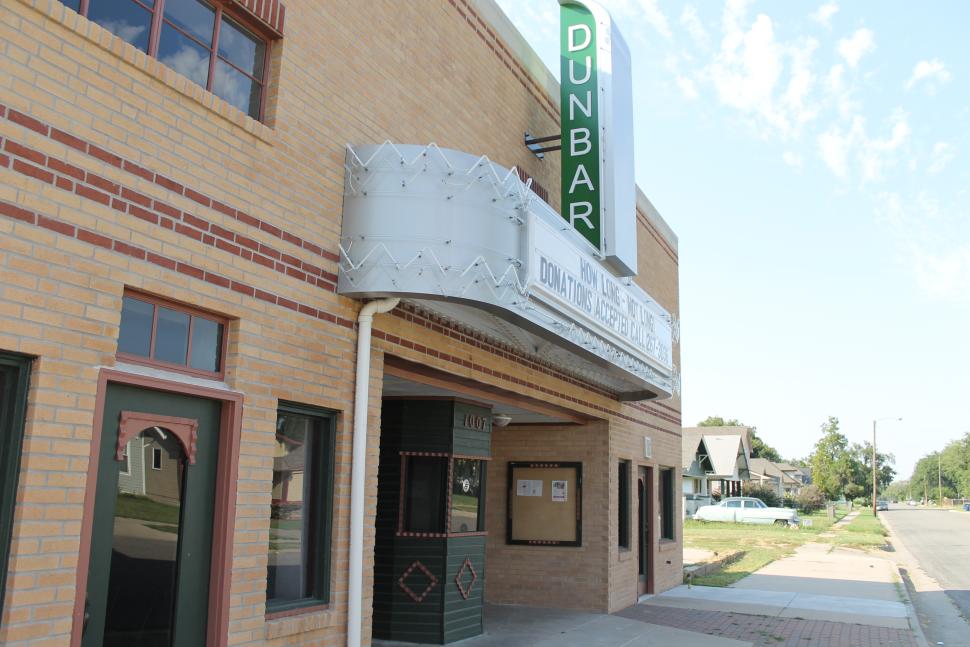 Donate or volunteer to help the restoration of The Dunbar Theatre
When The Dunbar Theatre opened in 1941 it signaled a welcome place for African Americans to go in a segregated city. A group of volunteers is working to restore the vacant building (a new marquee is already up) and return the structure to use as a community-based cultural performing arts center. They see the building as an anchor to a new Dunbar District. Learn more about the project and how you can get involved at historicdunbartheatre.com.
Dive into Harlem Renaissance Art at the Wichita Art Museum
Join art historian and public scholar Dr. Renée Ater as she explores the paintings of Aaron Douglas (1899–1979) during Harlem Renaissance Artist Aaron Douglas and Writer James Weldon Johnson with New African American Creative Expression. A Topeka native, Douglas—one of Kansas' most important artists—became a leading painter of the Harlem Renaissance as Black art and culture flourished in New York during the 1920s. Douglas' signature style combines African and African American stories with modernist geometry to create artworks that explore the African American experience.
Dr. Ater will provide a deeper look at Douglas' 1935 painting "Noah's Ark," which is on view starting Feb. 12 at the museum's exhibition, American Art Deco: Designing for the People, 1918–1939. The gallery opens at 5 p.m. There will be a cash bar and mingling at 6 p.m. and lecture at 6:45 p.m.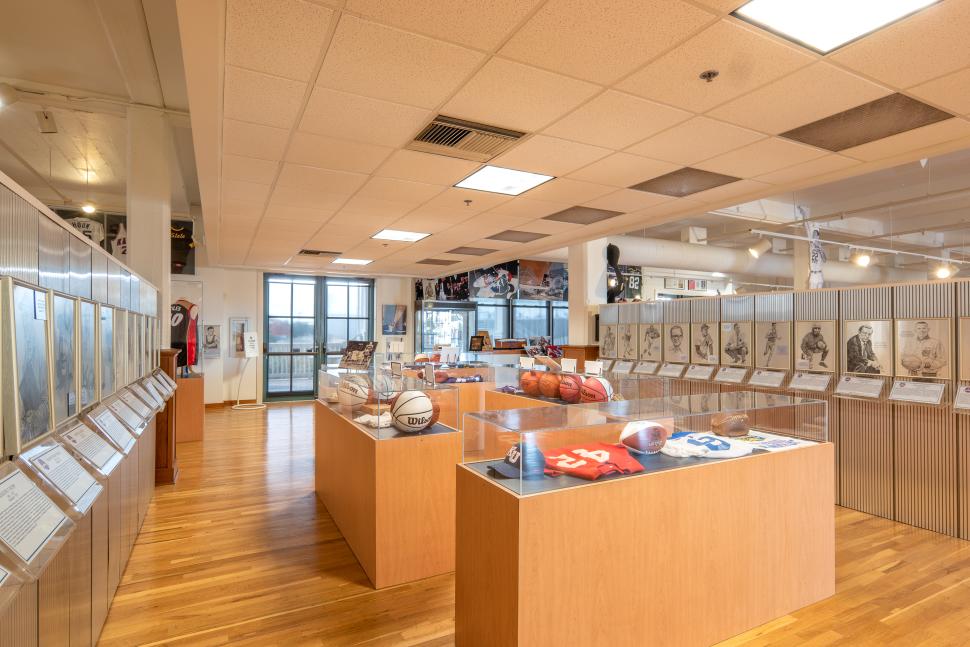 Visit the Kansas Sports Hall of Fame
Learn about exceptional coaches and athletes from Kansas, including inductees Willie Jeffries, the first African American head football coach at the NCAA Division 1 level; NFL great Barry Sanders; and basketball star Lynette Woodard, who became the first female Harlem Globetrotter. The museum is closed to the public during the pandemic but you can request an appointment to view the exhibits by calling the Kansas Sports Hall of Fame.